COMPLETE CABS
Our engineers are experts in the design, engineering and manufacturing of standard and custom architectural quality elevator cabs. We offer cabs for a variety of projects.
View More Benefits
PRODUCT SHEET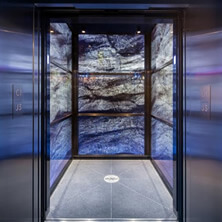 COMPLETE CAB BENEFITS
With standard and custom cabs available, we can provide complete cabs in all sizes, shapes, materials and finishes. We have beautiful design and quality craftsmanship. Our attention to detail and manufacturing capabilities make us a great solution for Class A buildings.
CUSTOM CABS
We can build any cab that you desire, including any size or shape. We can match any project requirements that you may have and get the exact cab you need for your project.
STRONG & DURABLE
Our cabs our fabricated with high quality materials. Known for high quality workmanship, our manufacturing partners have been in business since the 1920s and work very hard to continue their quality work.
FINISH OPTIONS
Our cabs come in several finishes including primed, painted, stainless #4 brushed, stainless #8 polished or mirrored, bronze/muntz #4 brushed, bronze/muntz #8 polished or mirrored, 5WL vandal resistant and more.
MORE BENEFITS
• UL Labels up to 120"
• Swing return panels
• NEMA rated hoistway finishes available
• Steel Shell cabs only
ADDITIONAL PRODUCT HIGHLIGHTS