MODERNIZATION PACKAGES
Get everything you need, nothing you don't with our tailored hydraulic and traction elevator modernization packages. Contact Lift Solutions directly for traction elevator packages.
View More Benefits
PRODUCT SHEET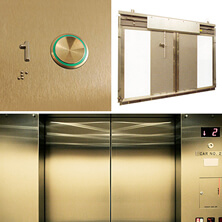 MODERNIZATION PACKAGE BENEFITS
All of our elevator modernization packages are engineered to satisfy the exact specifications and expectations of some of the largest elevator companies in the world. State-of-the-art manufacturing methods and top quality materials ensure precise fit and finish for all modernization packages.
HYDRAULIC & TRACTION
We can provide both hydraulic elevator and traction elevator modernization packages. Get all of the elevator equipment that you need from one source with Lift Solutions.
PICK & CHOOSE
Select any number of Elevator Components from the returned quote. Full, partial or individual component packages provided based on specific project needs.
TEST ASSEMBLED
Every cab and car sling and platform are test assembled prior to shipment. We verify these components work harmoniously in the field to help you save labor.
ORDER MANAGEMENT
Increase project productivity and profitability with Lift Solutions. We manage all components in the modernization package to ensure timely delivery of all modernization elevator equipment and components.
MORE BENEFITS
• Variety of prices
• Flexible lead times
• We do all the leg work
ADDITIONAL PRODUCT HIGHLIGHTS