MOTORS
We offer a range of reliable, top quality motors to satisfy your project's requirements.
View More Benefits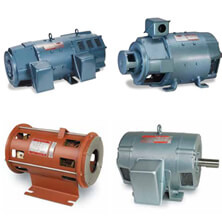 MOTOR BENEFITS
Our wide range of elevator motors meet most project requirements for most elevator types.
SPEED SELECTION
We have a full range of speeds to choose from including 1800, 1500, 1200, 900 RPM and more.
MOTOR VARIETIES
Elevator motors are available for virtually any application including dry and submersible pump motors, AC hoist motors, DC hoist motors, and permanent magnet motors for conventional and MRL applications.
BUILT TOUGH
Our motors are proven to survive brutal punishment while performing their elevator duty.
MORE BENEFITS
• Flange or foot mounting
• Open drip-proof enclosure
• TENV & TEFC available
• Explosion proof ratings
• Regreasable ball bearings
ADDITIONAL PRODUCT HIGHLIGHTS