ESCALATOR PARTS
Lift Solutions provides escalator replacement parts and escalator upgrades.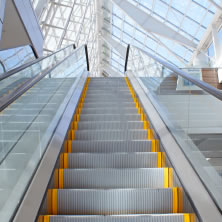 MORE ABOUT OUR ESCALATOR REPLACEMENT PARTS
LARGE INVENTORY
We have a number of escalator parts in warehouses and distribution centers spread across the nation. Our suppliers large inventory allows us to deliver quickly to our customers.
MECHANICAL PARTS
Our suppliers have all the mechanical parts of the escalator system you'll need, including escalator chains, tracks, hardware, bull gears, sprockets, gearboxes, drive shafts, handrail drive, handrail tension assembly, gear guards, wiring packages and more.
AESTHETIC PARTS
Maintain your escalators and keep them looking good with new and improved cast steps, completes, access covers, escalator handrails, skirts, panels, signage and more.
ESCALATOR REPLACEMENT PART BENEFITS
Lift Solutions suppliers have a number of escalator replacement parts and escalator upgrades. We offer all major manufacturer parts to keep your escalator maintenance, escalator service and escalator repair on schedule.
CAST STEP UPGRADES
We offer escalator cast steps have been improved to eliminate cracks, eliminate tread and riser replacement, includes the demarcation strips, are lighter weight, and enhance the look of any existing escalator.
MORE BENEFITS
• Competitive Pricing
• OEM Escalator Parts
• Aesthetic Escalator Packages
• Mechanical Escalator Packages
ADDITIONAL PRODUCT HIGHLIGHTS
ESCALATOR COMBPLATES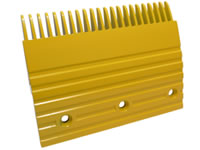 ESCALATOR GEARS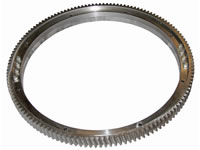 ESCALATOR STEPS