ELEVATOR DOOR PANELS
We provide elevator door panels that are UL Labeled and fabricated to meet the highest standards for finish, fit and dimensional accuracy.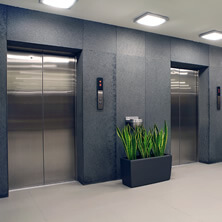 MORE ABOUT OUR ELEVATOR DOOR PANELS
DOUBLE SKINNED
We provide double skinned doors made from thick steel to maintain the original look and feel of the doors for years to come.
UP TO 120" DOORS
We cover just about every door panel size available for elevator projects nationwide. Fire rated, UL Labeled and code compliant, our doors are top quality with competitive pricing.
FULL RANGE OF FINISHES
We offer a full range of finishes for our door panels including primed, painted, stainless #4 & #8, bronze and muntz #4 & #8, 5WL vandal resistant and with brushed, polished or mirrored surfacing.
ELEVATOR DOOR PANEL BENEFITS
Our elevator door panels are built straight, strong and true to reduce windage in the hoistway and minimize damage from normal wear and tear. Our door panels are built with 16-gauge & 20-gauge steel.
DOOR OPERATION
Door operation includes single, two and three speed in side slide, center opening and swing door configurations. No matter the project, we can make it work.
CUSTOM DOORS
Providing custom doors is one of our specialties. We can provide custom widths, heights, and thicknesses in a variety of materials, including exotic finishes, wood, and glass panoramic.
MORE BENEFITS
• Welded or glued ribs
• 3/8" bar-stock header available for drilling in the field
• Swing doors available
• Vision panels available
• Reinforced clutch & pick-up roller plates provided
ADDITIONAL PRODUCT HIGHLIGHTS
DOUBLE SKINNED & WELDED RIBS FOR SOLID CONSTRUCTION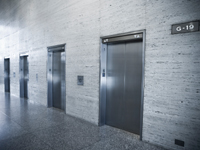 A VARIETY OF FINISHES AVAILABLE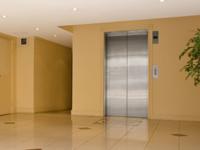 UP TO 120" DOOR PANELS